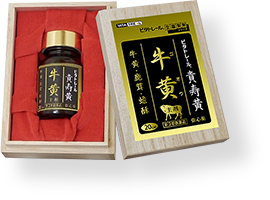 Vitatreal Kijuou
20 capsules
JAN code : 4909720526189
Risks
Type-2 OCT Drugs

Risks are relatively high. Rarely contains ingredients that may cause health hazards beyond hospitalization equivalents.
Features

Cardiotonic drug. Kijuou is an inotropic medicine containing herbal medicine ingredients such as "Goou", "Rokuzyou", "Senso", palpitation, shortness of breath, and in addition, 200 mg of goou herbal medicine which is regarded as very valuable- is now compounded! In addition, deer mushrooms are also compounded.This is also a herbal medicine ingredient which has been very prized from long ago.


=> The cardiotonic drug of Chinese medicine acts cooperatively with each ingredient, and it shows excellent effect.

=> Increase the function of the weakened heart.

=> As it is in capsule, you can use it without worrying about the flavor.
Effect

Palpitation, shortness of breath
Nutrients

In 1 day amount (2 capsules)
Oriental bezoar 200 mg, powdered antler velvet 10 mg, toad cake 2 mg
Additives : potato starch, gelatin, Na lauryl sulfate, pigment (Yellow No. 5) , Mg stearate
Usage and Dosage

Adults, 1 capsule at a time (taken twice a day) .


< Notice related to usage and dosage >


(1) Please take without chewing.
(2) Please adhere to the usage and dosage. Under 15 years : Do not take.
Warning

1 . Store in a cool, dry place avoiding direct sunlight.
2 . Keep away from children.
3 . Remove the cotton from the container after opening.
4 . Do not eat the wrapped package in the container. Its purpose is to keep the contents dry.
5 . Keep closed tightly. Moisure will cause quality change.
6 . Do not handle melted tablets in your hand as discoloration may occur.
7 . Do not take if past the expiration date.
8 . Please record on the container the date in which you opened it.
9 . Please consume the product within 6 months after opening.
Manufacturer

Miyoshino Pharmaceutical Co., Ltd. (Made in Japan)
PAGE TOP