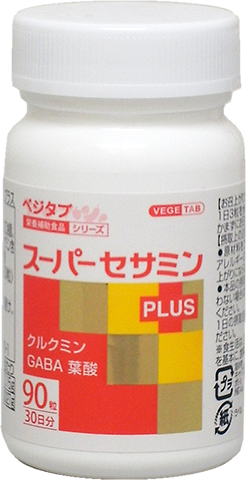 VEGETAB Super sesamin PLUS
90 pills
JAN code : 4934911005143
Types
SUPPLEMENT

Dietary supplement.
Features

Nutritive supplement food is what compensate for insufficient nutrients like vitamin and mineral which we can't take optimal amount from everyday meals.
Vitatreal VEGETAB Super Sesamine Plus is a nutritive supplement food made of precious sesamine 10mg (* recommended amount to take per day) extracted from about 3000pcs of sesame seeds and vitamin E, which also contains curcumine 30mg made of autumn turmeric, synthetic folic acid 420μg with high absorbability and GABA 90mg which is equivalent to 1000 times the amount contained in brown rice. (* each recommended amount to take in a day)


* This medicine is manufactured at a GMP-certified plant to assure quality and safety of the product.
Nutrients

Gelatine, vitamin E-containing plant oil, γ-aminobutyric acid, Turmeric extract, black sesame extract (containing sesamin) / processed oil and fat, glycerine, glycerine fatty acid ester and folic acid

---

Nutrition information (per 3 granule/795mg): energy 4.62kcal, carbohydrate 0.15g, protein 0.30g, sodium 0.0027g and fat 0.30g

---

Total : 2.85g (265mg X 90 sachets)
Usage and Dosage

Swallow three pills per day with water or tepid water without chewing.


< Precautions for the safe use of the medicine >




# Refer to the ingredients list and if there are any ingredients you are allergic to, do not take the medicine.

# Stop taking the medicine, if it doesn't agree with you. Keep the recommended daily intake.

* Maintain a nutritionally balanced diet consisting of staple food, main dish and side dishes.
About preservation

Store the medicine in a cool place away from heat, moisture and direct sunlight.
Manufacturer

Shiseido Pharmaceutical Co., Ltd. (Made in Japan)
PAGE TOP