Vitatreal Saikokeishikankyōtō Extract Powder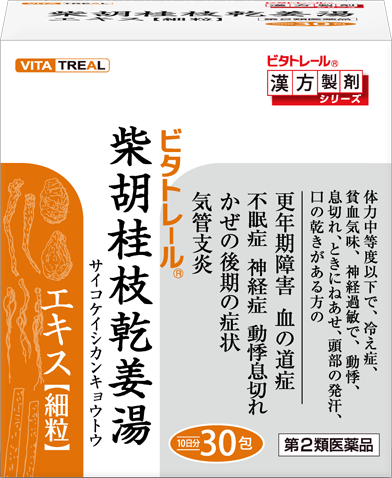 Vitatreal Saikokeishikankyōtō Extract Powder
30 packets
JAN code : 4987457101695
Risks
Type-2 OCT Drugs

Risks are relatively high. Rarely contains ingredients that may cause health hazards beyond hospitalization equivalents.
Features

Vitatreal traditional Chinese medicine preparation series. 1 type of Saiko. For people whose physical strength is moderate or less, those who do not have a bad face complexion, and those who complain about palpitations, shortness of breath, insomnia and the like.
Effect

The following symptoms of those with moderate physical strength, chills, anemia, nervousness, palpitations, shortness of breath, occasionally sleep sweat, head sweating, mouth dryness :


Menopausal disorder, blood passage disease, insomnia, neurosis, palpitation, shortness of breath, late symptoms of cold, bronchitis




< Addition >


Blood passage disease has mental symptoms and physical symptoms such as mental anxiety and annoyance appearing in association with changes in female hormones such as menstruation, pregnancy, childbirth, after birth, and menopause.
Nutrients

Per 3 packets (6.0 g)
Bupleurum root 3.0 g, oyster shell 1.5 g, cinnamon bark 1.5 g, processed ginger 1.0 g, scutellaria root 1.5 g, glycyrrhiza 1.0 g, trichosanthes root 1.5 g
Fine granule containing 2.5 g (equivalent to about 1.25 g in terms of dry matter) of saikokeishikankyoto water-based extract.
Additives : Mg metasilicate, hypromellose, lactose, potato starch, and flavoring.
Usage and Dosage

Please take the following amount with hot water or water before meals or between meals.
(Between meals means 2 - 3 hours after eating.)
Adults (15 years +) : 1 packet, 3 times a day (2.0 g)
  7 - 14 years : 2/3 packet, 3 times a day (1.3 g)
  4 - 6 years : 1/2 packet, 3 times a day (1.0 g)
  2 - 3 years : 1/3 packet, 3 times a day (0.7 g)
  Under 2 years : 1/4 packet, 3 times a day (0.5 g or less)


< Notice related to usage and dosage >




(1) Please adhere to the usage and dosage.

(2) Children should take it under the guidance and supervision of parents.

(3) For infants under the age of 1, priority is given to the doctor's medical treatment, and should only be taken when unavoidable.
Warning

1 . Store in a cool, dry place avoiding direct sunlight.
2 . Keep away from children.
3 . Remove the cotton from the container after opening.
4 . Do not eat the wrapped package in the container. Its purpose is to keep the contents dry.
5 . Keep closed tightly. Moisure will cause quality change.
6 . Do not handle melted tablets in your hand as discoloration may occur.
7 . Do not take if past the expiration date.
8 . Please record on the container the date in which you opened it.
9 . Please consume the product within 6 months after opening.
Manufacturer

Matsuura Pharmaceutical Industry Co., Ltd. (Made in Japan)
PAGE TOP