Vitatreal Jumi-haidoku-to in fine granule form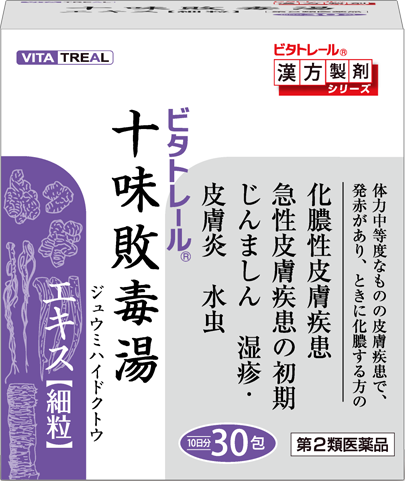 Vitatreal Jumi-haidoku-to in fine granule form
30 sachets
JAN code : 4987457101732
Risks
Type-2 OTC Drugs

Risks are relatively high. Rarely contains ingredients that may cause health hazards beyond hospitalization equivalents.
Features

The prescription of Jumi-haidoku-to was developed by Seishu Hanaoka (1760-1835), a surgeon who used general anesthesia to perform an operation for the first time in the world. Ten kinds of herbal medicines are used, from which the name of the prescription "Jumi-haidoku-to", or Ten-ingredient Detoxyfing Formula came from. It is used to treat general symptoms of skin disease, especially purulent one or itchy skin disease.
Effect

The medicine is effective for the following dermatitis symptoms of people with ordinary physical strength with a condition of redness which sometimes becomes purulent:


early-stage suppurative skin disease, acute skin disease, urticaria, eczema, inflammation of the skin and athlete's foot
Composition

Per 3 sachets (6.0g)

bupleurum root 1.5g, aralia rhizome 1.0g, cherry bark 1.5g, saposhnikovia root 1.0g, platycodon root 1.5g, glycyrrhiza 0.5g, cnidium rhizome 1.5g, ginger 0.17g, poria sclerotium 1.5g and schizonepeta spike 0.5g.

The medicine is in the form of fine granules which contain liquid extracts of Jumi-haidoku-to 3.6g (equivalent to about 1.8g of dried herbs) which is made from the above ten kinds of herbs.

As additives, magnesium aluminometasilicate, hypromellose, lactose, corn starch and flavor are used.
Usage and Dosage

Please take the recommended dose as follows with water or tepid water before meal or between meals.
("Between meals" means 2-3 hours after a meal)
Adults (15 years or older): 1 sachet(2.0g) t.i.d.
Seven to fifteen years: 2/3 sachet (1.3g) t.i.d.
Four to seven years: 1/2 sachet(1.0g) t.i.d.
Two to four years: 1/3 sachet (0.7g) t.i.d.
Children under 2 years: 1/4 sachet(less than 0.5g) t.i.d.


< Instructions for the usage and dosage >

(1) Strictly follow the usage and dosage instructions.

(2) Children of every age should take the medicine under the supervision of an adult.

(3) For a child under one year of age, give priority to taking him/her to a doctor for medical attention. Do not give the medicine unlsss absolutely necessary.
Cautions for use

What you should not do:

(If the consumer take the medicine without following instructions and warnings, it might cause harmful side effects or health risks)


People with the following conditions should not take the medicine.
Consult a doctor, if you plan to give the medicine to a baby under three months of age.

Consult

1 . Consult a doctor, pharmacist or registered distributor, if you are or have:
(1) under a care of a doctor (2) pregnant or possibly pregnant (3) a weak constitution (people with declined physical strength or of delicate health) (4) poor digestion (5) a history of rashes, redness, itchiness and other conditions caused by allergic reaction to medication or others

2 . If your symptoms do not improve after having taken the medicine for about a month (or for about a week, in case of early-stage suppurative skin disease or acute skin disease), consult a doctor, pharmacist or registered distributor with the package insert.

3 . Consult a doctor, pharmacist or registered distributor, if you take the medicine continuously for a long period.
Cautions on handling and storage

(1) Keep the medicine in a cool place with no direct sunlight and less moisture.

(2) Put the medicine out of reach of children.

(3) Keep the medicine in the original bottle. If transferred into other container, it might cause misuse or quality change of the medicine.

(4) As the medicine contains natural ingredients, its color varies slightly by drug forms. Such color difference, however, has no effect on efficacy.

(5) If you use part of a sachet of the medicine and plan to use the leftover for later, keep it with the open end folded, and use up the remaining within two days.

(6) Do not use the medicine after expiration date.
Manufacturer

Matsuura Yakugyo Co., Ltd. 24-21, Enjocho, Showa-ku, Nagoya City, Aichi Prefecture, 466-0054

PAGE TOP