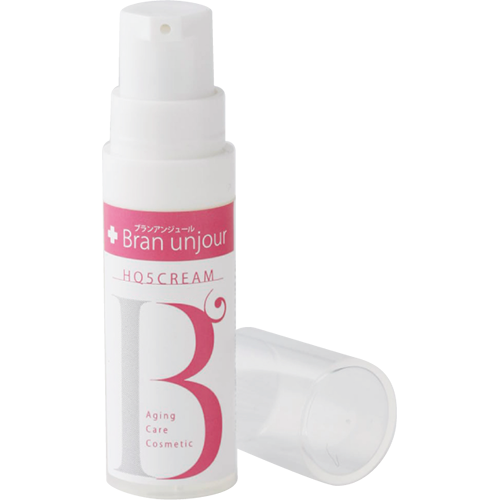 Bran unjour HQ5 cream
6 g
JAN code : 4562358820021
Types
Cosmetics

Facial cream
Features

Branunjour is a cosmetic product that made it happen to contain "highest concentration ever" of the latest cosmetic component which is commonly used in cosmetic products chosen by cosmetic clinic and beauty salons, for curing dark spots and improvement of bare skin condition. This "Branuniour" brand shines your smile.
With paraben-free, mineral oil-free and artificial coloring-free, non-synthetic surfactant and airless containers are used.
The product is a dark spot correcting cream in which both hydroquinone for anti-spot and vitamin C derivative are added. Hydroquinone, an active ingredient for curing dark spot, had to be used with a doctor's written prescription until 2001 when no such prescription was required due to easing of Pharmaceutical Affairs Law. Now it can be used for cosmetic products as well, thereby leading to the development of HQ5 cream.
Hydroquinone is known for its beneficial effects especially on developed dark spots.


[Keep refrigerated] In order to keep it fresh, please store the product in a refrigerator.
Nutrients

---

Water, Ascorbyl Tetraisopalmitate , hydroquinone, (hydroxyethyl acrylate/sodium acryloyl dimethyl taurine) , copolymer, squalane, glyceryl stearate, allantoin, dipotassium glycyrrhizinate, carboxymethyl -β- glucan Na, licorice root extract, saccharomyces cerevisiae extract, panax ginseng root extract, royal jelly extract, 1,2-hexane diol, caprylyl glycol, sodium lactate, lactic acid, sodium pyrosulfite, etidronic acid, orange flower water, BG( butylene glycol), Polysorbate 60 and Sorbitan isostearate

---
How to use

Take up an appropriate amount of the cream and apply it only over the skin part where you care. Do not need to rub it in. So as not to expose the skin part to ultraviolet rays after application, use it before bedtime. And wash it off when wash your face in the folowing morning.
CAUTIONS FOR USE

* Use with care, checking if something abnormal occurs in your skin.

* Stop using, if it disagrees with your skin

* Handle carefully so that it does not come into your eyes. If it does, wash it off immediately with water.

* Use it before going to bed at night, so as not to expose the skin to ultraviolet rays after application. Wash it off when washing your face in the following morning.
CAUTIONS ON HANDLING AND STORAGE

# Close the lid after use and keep the medicine in a cool dark place.
# Discoloration may occur due to ingredients, which has no effect on the quality.
Manufacturer

Willgrand Companies Inc. (Made in Japan)
PAGE TOP