Vitatreal Neige White plus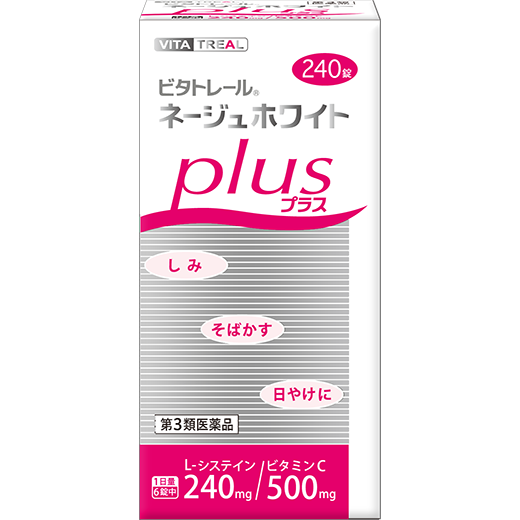 Vitatreal Neige White plus
240 tablets
JAN code : 4958118300030
Risks
Type-3 OCT Drugs

Risks are relatively low. It does not interfere with everyday life, but includes components that may cause modulation and malfunction of the body.
Features

Neige White Plus is a L-cysteine preparation that exerts an excellent effect on skin troubles such as spots and freckles, acne and tiredness and sagging as well as general malaise that helps skin and body metabolism. It also activates enzymes that help break up the cause of hangover and improves symptoms.
Effect

Pigmentation, freckles such as sunburn, general malaise, hangover, acne, eczema, urticaria, rash, spillage
Nutrients

Daily dose : 6 tablets
L-cysteine 240 mg , ascorbic acid (vitamin C) 500 mg, calcium pantothenate 24 mg
Additives : gum arabic, carnauba wax, reduced maltose sodium hydroxide, Ca silicate, titanium oxide, Mg stearate, shellac, gelatin, cellulose, talc, calcium carbonate, Ca lactate, white sugar, hydroxypropyl cellulose, Ca hydrogen phosphate, carmellose Ca.
< Notes related to ingredients · quantity >
Urine and faecal test values may be affected by taking this drug. Please inform your doctor if you use drugs that contain Vitamin C.
Usage and Dosage

Please take the following amount
  Adults (15 years +) : 2 tablets, 3 times a day
  7 - 14 years : 1 tablet, 3 times a day
  Under 7 years : Do not take.
< Notice related to usage and dosage >
(1) Please adhere to the usage and dosage.
(2) You can take it anytime, even before meals or after meals.
(3) Children should take it under guidance of parents.
Warning

1 . Store in a cool, dry place avoiding direct sunlight.
2 . Keep away from children.
3 . Remove the cotton from the container after opening.
4 . Do not eat the wrapped package in the container. Its purpose is to keep the contents dry.
5 . Keep closed tightly. Moisure will cause quality change.
6 . Do not handle melted tablets in your hand as discoloration may occur.
7 . Do not take if past the expiration date.
8 . Please record on the container the date in which you opened it.
9 . Please consume the product within 6 months after opening.
Manufacturer

Japan Vitamin Chemistry Co., Ltd. (Made in Japan)
PAGE TOP