Vitatreal EXP PREMIUM (363tablets)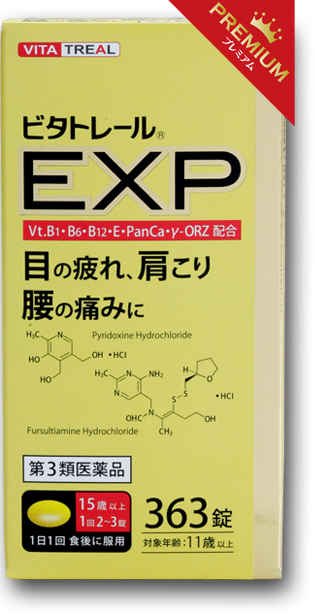 Vitatreal EXP PREMIUM
363 tablets
JAN code : 4966486500761
Risks
Type-3 OCT drugs

Risks are relatively low. It does not interfere with everyday life, but includes components that may cause modulation and malfunction of the body.
Features

Vitamin B1 derivative Fursultiamine, vitamin B6, vitamin B12 are compounded, and it shows excellent effect to flicker symptoms such as eye fatigue, shoulder stiffness and back pain. Calcium pantothenate, which acts as a coenzyme (coenzyme A) , which plays an important role in energy production, vitamin E to improve blood circulation in the corners of the body.
Effect

1 . Relaxation of the following symptoms :
Asthenopia, muscle pain · joint pain (shoulder stiffness, back pain, shoulder pain, etc.) , neuralgia, numbness of limbs.
"However, if the condition does not improve after about a month, please consult a doctor or pharmacist."


2 . vitamin B 1 · vitamin B 6 · vitamin B 12 supplementation in the following cases :
During physical fatigue, physical decrease after and during illness, pregnancy · lactation period.
Nutrients

Maximum daily dose (3 tablets) during
Fursultiamine hydrochloride (vitamin B1 derivative) 109.16 mg (100 mg as full sulfithiamine) , pyridoxine hydrochloride (vitamin B 6) 100 mg , cyanocobalamin (vitamin B 12) 1, 500 μg, calcium tocopherol succinate 103.58 mg (dl - α - tocopherol 100 mg as a succinate) , calcium pantothenate 30 mg, gamma-oryzanol 10 mg
Additives : lactic acid Ca, anhydrous silicic acid, hydroxypropyl cellulose, serceafe, cellulose, potato starch, lactose hydrate, Mg stearate, hypromellose, sucrose, powder of gum arabic, polyoxyethylene polyoxypropylene glycol, talc, titanium oxide , Riboflavin phosphate ester Na, carnauba wax.
Usage and Dosage

Take the following amount with water or hot water soon after eating.
  Adult (15 years +) : 2 to 3 tablets once a day
  11 - 14 years : 1 to 2 tablets once a day
  Under 11 years : Do not take


* Adhere to the usage and dosage.
Warning

1 . Store in a cool, dry place avoiding direct sunlight.
2 . Keep away from children.
3 . Remove the cotton from the container after opening.
4 . Do not eat the wrapped package in the container. Its purpose is to keep the contents dry.
5 . Keep closed tightly. Moisure will cause quality change.
6 . Do not handle melted tablets in your hand as discoloration may occur.
7 . Do not take if past the expiration date.
8 . Please record on the container the date in which you opened it.
9 . Please consume the product within 6 months after opening.
Manufacturer

Neiyaku Kagaku Co., Ltd. (Made in Japan)
PAGE TOP