Yokuinin extract tablet PREMIUM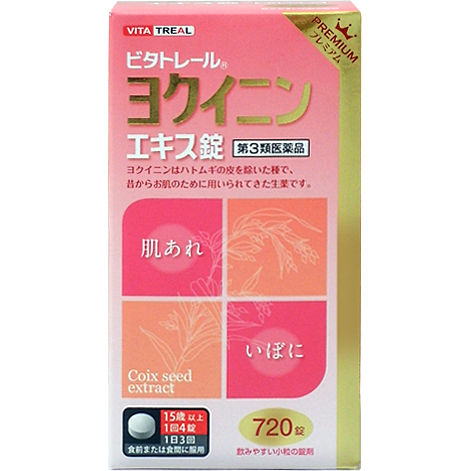 Vitatreal Yokuinin extract tablet PREMIUM
720 tablets
JAN code : 4987397031182
Risks
Type-3 OCT Drugs

Risks are relatively low. It does not interfere with everyday life, but includes components that may cause modulation and malfunction of the body.
Features

"VITATREAL Yokuinin (coix seed) extract tablet" is made from Yokuinin coix seed, a herbal medicine which has long been used as a folk medicine in Japan for removing warts or providing a cure for skin disorders. An extract obtained by decocting coix seed (a plant belonging to the rice family. Only its seeds are used after removing its coat) is made into easy-to-swallow tablets by adding pharmaceutical excipient (lactose, starch and the like).
* This medicine is of VITATREAL premium grade (large capacity version)
Effect

Warts and rough skin


Warts ............. Effective especially for gradually spreading type warts that are often seen in young people. Most such warts disappear within a month.

Rough skin ... Nutritionally supports skin. Rough skin and skin that easily generate pimples become radiant and smooth.
Nutrients

Following ingredients are contained per daily dose (12 tablets)
Yokuinin (coix seed) extract 990mg
Additives: Sugar, cellulose, corn starch, magnesium stearate and vitamin C.
Usage and Dosage

Please take the recommended dose as follows before meal or between meals. ( "Between meals" means 2-3 hours after a meal)
Adults (15 years or older): 4 tablets t.i.d.
Eleven to thirteen years: 3 tablets t.i.d.
Seven to ten years: 2 tablets t.i.d.
Over five and under seven years: 1 tablet t.i.d.
Children under 5 years old: Do not take the medicine


< Notice related to usage and dosage >


Supervision of an adult is required when a child of 5 years or older takes the medicine.
CAUTIONS FOR USE

When consultation is required
1.Consult a doctor, pharmacist or registered distributor consult a doctor, pharmacist or registered distributor, when you plan to take this medicine for a long term.
CAUTIONS ON HANDLING AND STORAGE

(1) Store the medicine with bottle lid tightly closed in a place with less moisture away from direct sunlight.

(2) Put the medicine out of reach of children.

(3) Do not transfer the medicine into other container (it might cause misuse or quality change of the medicine)
Manufacturer

Nitanda Pharmaceutical Co., Ltd. (Made in Japan)
PAGE TOP