Kamishoyosan extract tablet [Soushisei]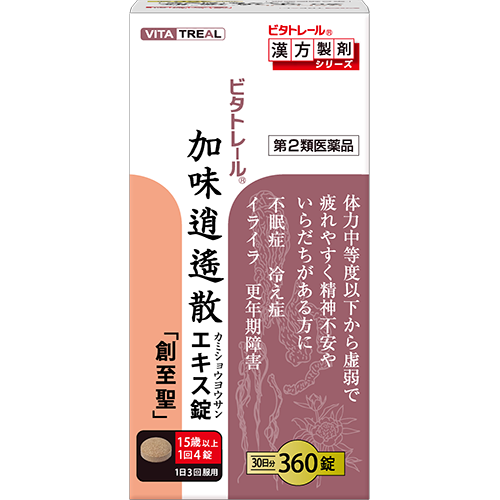 Vitatreal Kamishoyosan extract tablet [Soushisei]
360 tablets
JAN code : 4987416136911
Risks
Type-2 OCT Drugs

Risks are relatively high. Rarely contains ingredients that may cause health hazards beyond hospitalization equivalents.
Features

Kamishoyosan extract tablet [Soushisei] is made from "Kamishoyosan," an old prescription of herbal medicine passed down since ancient times in China, into easy-to-swallow extract tablets. It is effective for irregularity of menstruation, menopausal disorder, cold limbs, insomnia and others complained of by persons who tend to get tired or irritated easily.
Effect

This medicine is for the following symptoms complained of by persons with moderate or lower physical strength with conditions including a feeling of hot flashes, fatigability and neuropsychiatric symptoms like psychological anxiety, irritation and tendency of constipation once for a while:

Cold limbs, weak constitution, irregularity of menstruation, dysmenorrhea, menopausal disorder, assorted female disorders and insomnia.


< Addition >
Assorted female disorders mean neuropsychiatric symptoms and physical symptoms including psychological anxiety, irritation and others that appear according to hormonal changes triggered by menstruation, pregnancy, childbirth, post-baby and menopause.
Nutrients

Following ingredients are contained per daily dose (12 tablets)
Kamishoyosan extract (half the amount) 2.5g (Dried extract made from Japanese angelica root 1.5g, peony root 1.5g, atractylodes rhizome 1.5g, poria sclerotium 1.5g, bupleurum root 1.5g, mountain cortex 1.0g, gardenia fruit 1.0g, licorice1.0g, ginger 0.5g and mint 0.5g)
Additives: Lactose, cellulose, CMC-Ca(camellose calcium), precipitated calcium carbonate, magnesium stearate and anhydrous silicic acid.


As the medicine contains natural ingredients (herbal medicine), the color of tablets may vary slightly.
Usage and Dosage

Please take the recommended dose as follows with water or tepid water before meal or between meals.
Adults (15 years or older): 4 tablets t.i.d.
Seven to fourteen years: 3 tablets t.i.d.
Five to six years: 2 tablets t.i.d.
Children under 5 years old: Do not take the medicine
( "Between meals" means 2-3 hours after a meal)


< Notice related to usage and dosage >


Supervision of an adult is required when a child of 5 years or older takes the medicine.
CAUTIONS FOR USE

When consultation is required

1. Consult a doctor, pharmacist or registered distributor, if
(1) You are under a care of a doctor (2) You are pregnant or possibly pregnant. (3) You have poor digestion. (4) You are elderly (5) You have a history of developing allergy reaction to medication and others, including rash, reddening of the skin and itchy sensation. (6) You have the following symptom. 〔swelling〕 (7) You were diagnosed with the following diseases. 〔high blood pressure, heart disease or kidney disease〕

2. Stop using the medicine immediately and go to see a doctor, pharmacist or registered distributor with this user's guide if the following symptoms appear after taking the medicine, as the symptoms might be side effects. 〔affected area: symptoms〕
〔Skin:rashes, redness or itchiness〕〔Digestive organs:nausea, vomiting, decreased appetite or discomfort of stomach〕
In rare cases, serious side effects as follows might occur. In that event, seek medical attention immediately.
< Pseudohyperaldosteronism myopathy >
In addition to a feeling of listless, numbness, tightness or stiffness in limbs, symptoms of weakness and muscle pain appear and gradually get worse.
< Liver dysfunction >
Following symptoms appears: fever, itchiness, rashes, jaundice (yellowish pigmentation of the skin and whites of the eyes), brownish urine, sense of fatigue all over the body, decreased appetite and others.
< Mesenteric phlebosclerosis >
Long time use of this medicine might cause stomach pain, diarrhea, constipation or a feeling of abdominal bloating repeatedly.

3. Following symptom might appear after taking the medicine. If such symptom continue or become worse, stop taking the medicine and consult a doctor, pharmacist or registered distributor:
diarrhea

4. If there is no improvement after taking the medicine for about a month, stop using the medicine and consult a doctor, pharmacist or registered distributor with this user's guide.

5.Consult a doctor, pharmacist or registered distributor consult a doctor, pharmacist or registered distributor, when you plan to take this medicine for a long term.
CAUTIONS ON HANDLING AND STORAGE

(1) Store the medicine with bottle lid tightly closed in a place with less moisture away from direct sunlight.

(2) Put the medicine out of reach of children.

(3) Do not transfer the medicine into other container (it might cause misuse or quality change of the medicine)

(4) As the medicine is prone to absorb moisture, store it with the lid tightly closed after use.

(5) Do not touch the medicine with wet hands. (If moisture touches a tablet, the tablet color may change.)
Manufacturer

KITANIHON PHARMACEUTICAL CO., LTD. (Made in Japan)
PAGE TOP